Aluminum alloys Laser Marking Machine-Angelina
Aluminum alloys Laser Marking Machine
Comparing with corrosion and pneumatic processing,Aluminum alloys laser marking machine has unique advantages.
For example,no machining force between the workpieces,no cutting force and little heat.
Therefore,it  ensures the high precision of the workpiece.
Laser marking of aluminum alloy has good flexibility in the material, shape, size and processing environment of the object .
So It can meet the requirements of industrial mass production.
The laser engraving is fine, the lines can reach millimeters and micrometers and permanent marking.
And it is important for product anti-counterfeiting.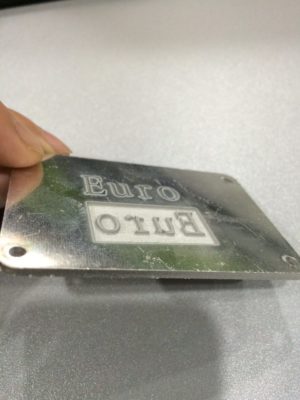 The combination of Aluminum alloys laser marking machine and computer  control technology can form an efficient and automatic processing equipment.
What's more,it can produce various texts, symbols and patterns, greatly improve efficiency of modern production.
Laser marking on Aluminum alloys has no pollution source and high environmental protection.
Laser marking machines can not only use for marking on aluminum alloys,but also  in various industries.
It opens up broad prospects for high-quality, high-efficiency, non-polluting and low-cost modern processing and production.
With the expansion of laser marking application fields, the requirements for miniaturization, high efficiency and integration of laser manufacturing equipment systems are becoming higher and higher.
we are a professional manufacturer of Laser marking machine,laser welding machines, laser engraving machines, etc.
Then you can choose laser equipment according to your needs.
Our Fiber laser machine for Aluminum alloys
It is the most popular fiber laser marking machine in recent years.
And it is especially suitable for metal materials marking.
It has small size, good beam quality, maintenance-free, long service life, high electro-optic conversion efficiency, etc.