Why Fiber Laser Engraver Is Efficient in Metal Etching-Angelina
Why Fiber Laser Engraver Is Efficient in Metal Etching
Fiber laser engraver and fiber labeling represent a separate special direction of material processing.
The goal of this is to give the product an individual design or a special character.
There is a great advantage of the technology.
It lies in the fact that it is possible to perform etching of almost any design.
The choice of materials is also wide from fiber to copper.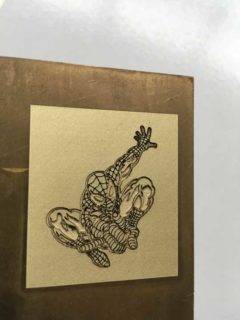 If to talk about industries where laser parts marking is most in demand, then it is the metal industry.
Etching and labeling of metals is a very precise and clean form of metalworking.
It can be engraving on metal tags, silver tags, gold and much more.
It is possible to inflict constant texts, logos or images on metal advertising materials with optimal costs.
Engraving iron is carried out in a non-contact way.
And for this, there is no need preliminary or further processing .
This technology creates corrosion-resistant labeling, resistant to acids and chemicals.
Without damaging the surface of the metal.
Fiber laser engraver will cope with this task, even in the case when we need deep etching.
In fact. we use Industrial marking into parts and components of finished products.
It is necessary to identify fiber laser products, simplify the accounting of goods.
Today, the innovative way of fiber laser engraver has supplanted traditional methods.
And we apply marking of industrial products with high speed and accuracy.
An experienced specialist leaves an identical stamp on the product.
It is made without distortion of the image, boundaries, and dimensions.
Besides,laser etching on metal is suitable for large volumes where detailing is important.
And the cost of it is cheaper than the service of mechanical stamping.