Successful expo of fiber laser machine-Angelina
Successful expo of fiber laser machine
In nowadays, fiber laser machine is more and more popular in the market.
More and more suppliers attend different kinds of exhibitions all over the world to publicize their brand.
Through the exhibitions, the suppliers could increase many customers and sold their machine onsite.
In last week, our XTLASER just finished the successful exhibitions in Italy .
We received great success during the exhibitions.
Our fiber laser marking machine and fiber laser cutter are popular in the market.
Many customers came to our booth to ask many questions about the machine.
Our engineer solved their problems onsite.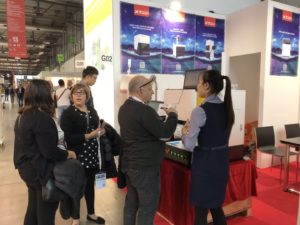 During the exhibitions, most of the customers show great in the fiber laser cutting machine.
Some of them are end user, buying the machine for own use, some of them are agent.
Among these customers ,the high power machine is the frequently asked by our customer.
For example, the 4kw,6kw fiber laser machine with big working areas.
For these customers, most of their materials are thick, therefore, only high power machine could meet with their reuqirements.
Except for the fiber laser cutting machine, the fiber laser marking machine with cover is also popular.
Nearly all of the Eurepean customers would like to choose the enclosed marking machine.
They care more about the safety than other countries customer.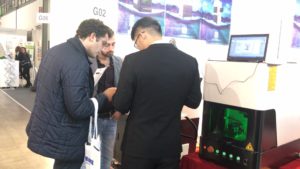 This fiber laser machine is autofocus , no need using hand to adjust the focus.
The customer only need adjust the button, which could save much time and energy.
By the way, we will atteng Germany Hannover exhibitions in next week, from 23-26th,October.
If u are interested in our fiber laser machine, welcome to visit our booth.
If u want to learn more, pls contact with me:
contact Angelina
Email: xintian118@xtlaser.com
wechat:15965618161
mobile/whatsup:+8613335191585
skype:Angelina Xtlaser