How to mark color on stainless steel,stainless steel color marking-Jill
How to mark black and white on stainless steel
Stainless steel color marking:We have many customers want to mark color on stainless steel.As we know,Mopa can mark many color on stainless steel.But Mopa is a little expensive.How about Raycus and IPG laser machine?
For Marking different color on stainless steel,normal Q-Switched laser source can also mark color on SS
here is video:  https://youtu.be/hSxRlBQVmh0

Stainless steel color marking,How to set the parameters?
1.Mark black on stainless steel
For example,we use the 20w machine with 100mm lens
Offset-focus, power 80%,speed 80-110,filling 0.02-0.03,the concept of offset-focus is raising and falling down the pillar, until can not hear the sound of the laser marking and can not see the spark of the laser marking, but still have the light burning on stainless steel, it is the most appropriate position.
2.Mark white on stainless steel
marking on the focus point, power 20-30%, speed 1000-1200, fillling 0.05-0.08, frequency 30KHz.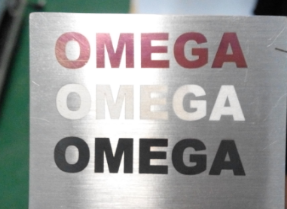 3.Mark other color on stainless steel
For Raycus,black and white color easy be marked on Stainless steel, we only adjust data in software according to the machine and computer.For other color,Raycus can also achieve,but the parameter is a little difficult to set.
How about the marking speed?
According to our experience,generally,white color marking speed is faster than black color.
How about Mopa
MOPA fiber laser machine can mark different color on stainless steel more easily than Normal Q-Switched laser source,.
Here is the video FYI:  https://youtu.be/0gTeryd4AHE

More qiestions ask us freely.
WhatsApp:+86 130 4603 3839
Skype:lasermachine01
email:xintian101@xtlaser.com